When you hear of Sweden, what comes to your mind? Maybe the famous Swedish meatballs, the biggest IKEA shop, countless lakes and abundant forests or where Spotify originated. Yes, these are all true about Sweden. But do you also know that the most famous tourist attraction in Sweden lies in the middle of its capital city? You heard it right! This attraction is a town itself that was founded in the 13th century where it's buildings and architectures are all well-preserved until now. Let's take a look at Gamla Stan. 
Gamla Stan is one of the biggest well-preserved medieval cities in Europe. The buildings were established around the 1700's and 1800's and this can easily be seen through the town's facade, narrow streets with cobblestone roads, and colorful buildings. The mix of rustic and sophisticated colors of the buildings emphasizes the town's old but classy vibe. There is no way anyone would want to miss this vibrant place when visiting Stockholm.
Aside from the mesmerizing architecture, Gamla Stan is surrounded by a lot of cafés, restaurants, souvenir shops, bars and parks.
In addition to this, there are also several museums and palaces in Gamla Stan. These include the Nobel Prize Museum exhibiting the history of the famous Nobel Prizes and the winners.
There is also the massive and stunning The Royal Palace where the King of Sweden resides and is one of the biggest palaces in Europe. The palace has three museums and is open to the public for guided tours (see full details here). If you don't want to enter, just at least make sure to witness the cool parade and changing of the guards!
The eye-catching tower of a Lutheran church S:ta Gertrud also welcomes tourists who want to see more of its Baroque interior and stained glass windows.
Storkyrkan, also known as The Great Church or Stockholm Cathedral is also a landmark that should not be missed. It has a gothic brick architecture and inside is a spectacular silver altar and St. George statue killing a dragon. This cathedral is located right next to the Royal Palace.
The Great Church has an entrance fee of 60 sek for adults and 50 sek for students and senior citizens and is open everyday between 10am-6pm.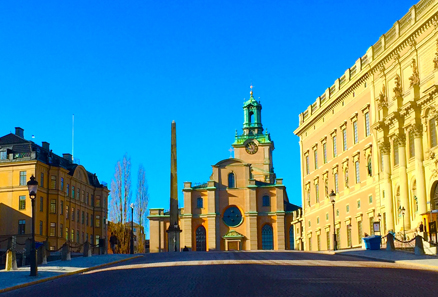 The heart and main square of Gamla Stan is called Stortorget. This is also where the Nobel Prize museum is located and tourists would stay in this particular site to rest and just enjoy the surrounding architecture.
If you want to visit Stockholm someday, make sure to add Gamla Stan as your priority list. There is so much more to see in this old town that will make you visit it over and over. If you love this type of attraction, you might enjoy Sigtuna, the oldest town in Sweden or another famous daytrip attraction Vaxholm, that is famous for its Vaxholm Fortress.